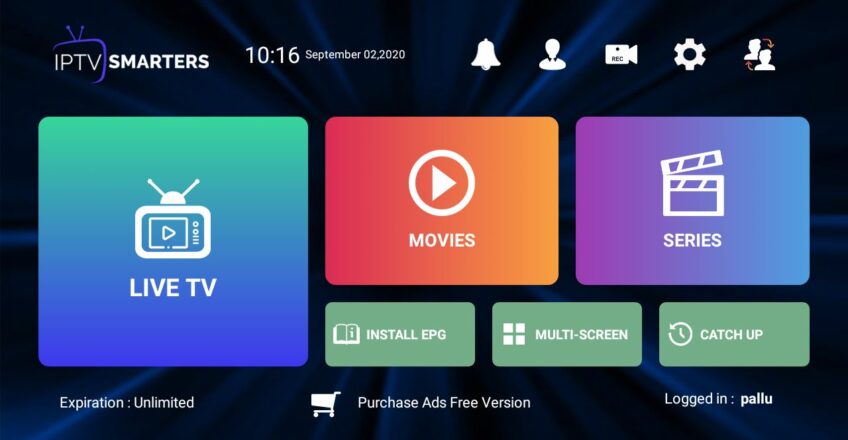 How To Setup IPTV Smarters on Firestick/Android device
To install IPTV Smarters on your Firestick or an Android Device you
have to first get the Downloader app either from Amazon App Store or via
Google Play Store.
Now follow these steps to Set up IPTV Smarters in 5 minutes:
After downloading the Downloader you have to use this URL in the box to download IPTV Smarters: https://iptvsmarters.com/smarters.apk
Just wait for a few seconds for the app will be downloaded and hit Install to Install the app.
Now you have to press and hold the Home button and after that, you need to click on the Apps.
From there choose the IPTV Smarters as shown in the attached screenshot below.
Once the application is launched it will ask to choose the device just Select TV and hit the Save button.
After that, another screen will appear asking for the method to Login Your account. From here you need to click on the Login with Xtream Codes API.
Once you did that from the next screen you will be asked to put your Username, Password, and the Portal URL that were provided by produsat.
Put the details like this:
Any name: Produsat
Username: Your Username
Password: Your Password
Portal URL: http://iptvport.com:25461
Once everything is filled just click on the Add User button.
Note: To get the details just open your Email and then check the Inbox or Spam folder and you will see the account details provided like this.
After you hit the Add User you will see the User Page now just choose
Live TV, Movies, and Series and press the Select button to download.
Once the download is completed you just need to select Live TV or any
other category and start streaming your favorite content instantly.
That's it now you are ready to stream our huge library of 20,000+
live TV channels and VODs on your TV with just a few clicks. You can
watch our TV without buffering and enjoy the fast and reliable service
from all other providers.